February 2015 News Headlines
Jávea proposes use of municipal land land near the canal de la Fontana as a dry dock
Feb 25th
Xàbia's Town Planning department is currently studying the proposals put forward by the "Marina Nou Fontana" company for the management of the Canal de la Fontana and its moorings. In this context, the town has mooted the possibility of letting the company lease a 3,500m municipal plot of land next to the canal for some of its buildings, and provide space for the creation of dry docks. The rent for this land would go to Xàbia's coffers, not the regional Government, and the facility could help reduce prices for users through the economy of scale. From XAD: Xàbia ofrece...
Xàbia restores Montgó lime kilns
Feb 25th
The summer forest fire on the Montgó uncovered several old rural lime kilns, which were used up until the '60's to make the lime and mortar used for building. These kilns are now being restored by a team supervised by the municipal archaeologist, Ximo Bolufer, and various information boards about their uses and history will be installed. As explained Bolufer there are several of these buildings throughout the municipality, but "almost always away from the urban centres" e.g. in ​​Las Planas or Granadella, the ovens needed to be near wood and limestone. From XAD: Xàbia recuperar
'Expat networks worsen Spain's brain drain'
Feb 20th
Spain's central bank has warned that more and more Spanish talent is being steered abroad by the success of their expat counterparts and the reassurance they're giving them on online platforms, "a potential threat to Spain's economic production". Online comments and conversations with Spanish expats working abroad are instigating many more qualified but unemployed Spaniards to take the leap of faith. According to The Bank of Spain, Spanish work migrants "are younger and more educated than those who stay". "A dramatic increase in Spain's brain drain could exacerbate the effects of the crisis," the document states. For full story see: The local.es
Spain: a nation of sun, soccer, bullfights — and the crisis
Feb 20th
The economic crisis has officially joined bulls, soccer and sunny weather as one of the most common images of Spain in the minds of foreigners. The finding is part of the Image Barometer survey conducted by the Real Instituto Elcano think tank and released on Wednesday. The poll asked people in 10 countries in Europe, the Americas, Asia and the Maghreb region of Africa what they thought about Spain…European countries – particularly Germany, France and Britain – view Spain as a poor country and, along with South Korea, expressed the least optimism about its economic progress. for full story see: El Pais in English
The country's global image rating was 6.9 points out of 10, a slight improvement from 2012, when it was 6.5.
Walk or cycle safely to school
Feb 20th
Xàbia's councillors for Citizen Participation and Education have presented the project 'Camins Escolars' to schools of Javea and representatives of parents' associations. The idea is to enable children to walk or cycle safely to school, without having to be picked up by their parents. They are now is working on the technical side, studying the most recommended routes for their security inputs, such as the presence of police at crossings and a good system of pedestrian ways. They will also have to limit traffic around some schools to increase safety and eliminate bottlenecks. There will first be a pilot project. from Las Provincias - Xàbia implantará...
Tax authorities discover around 19,000 illegal buildings in 45 Valencia municipalities
Feb 18th
The first phase of regularising property values has revealed some 19,000 cases of illegal constructions in the Valencian community. These range from houses built on private plots, extra apartments in existing apartment blocks, unlicensed renovations and swimming pools. This exercise has been carried out since last March using aerial photography and inspections in the ground. So far only 12 municipalities have been inspected in Alicante Province - one of which is Denia with 8232 infringements. The exercise will result in increased IBI receipts for affected municipalities. From Las Provincias:"Hacienda detecta cerca de 19.000…" (Ed's note: Javea is not on the list …yet!)
Guided tours of Montgó beehives
Feb 17th
Xàbia's Department of Agriculture is bringing the world of beekeeping to the people, providing the opportunity to visit beehives in the Montgo Natural Park with beekeeper Francisco Cervera . The free tours will take place between 10am - 1.00pm) and are open to both adults and children. You can register with the agricultural section of Creama or the Citizens Advice Bureau (OAC) or phone 965 794 266 to organize visiting groups. From XAD: Agricultura....
Study highlights Javea and Denia beaches at risk through climate change
Feb 16th
The Hydrographic Cofederation of the Xùqer (Ministry of the Environment) has produced a pessimistic study which identifies the Marina Alta beaches as an area of high flood risk due to global warming. The area of high risk stretches from Els Poblets to Moraira. There is a possibility that the sea level will rise by 20 cm over the next 35 years. According to the IPCC report, the sea level rise could be 86-96 cm. From: Marina Plaza.
Fishing around Marine San Antonio Marine reserve better regulated

Feb 10th
Denia Town Hall is to restrict fishing in the buffer zone around the Denia side of the San Antonio Marine reserve to six small vessels per day. The affected zone lies offshore between the light house and the Torre del Gerro. This decree provides for the creation of a commission to create guidelines for fishing in that extended area as well as the maximum number of vessels which may fish. To date there has been no regulation about it, creating some confusion among fishermen. From : Denia.com
Xabia rejects regional Government plan for pay parking in the Port
Feb 10th
Xàbia has rejected a plan put forward by a Madrid company, through the regional Department of Infrastructure, to create a pay car park in the Port, in the area below la Caleta, opposite the fish market, currently used as a service area and free car park. The plan would be to impose charges from June 12 to September 13, and for 10 days over Easter. Objections are based on the fact that there is little enough free parking in the Port as it is, and that the use of an entry barrier in high season would add to the already existing congestion, also that the dates coincide with various holidays, cultural and sporting events in the area, some of which involve "the restriction of entry or exit to the port area, which would create a problem for users of paid parking." Mayor Chulvi has complained about the serial privatisation of public spaces which seems to be promoted by the regional Government, which has started charging for the use of Port areas for fiestas, without having improved anything there. From Las Marinas: Xàbia rechaza...
Cold snap due to a "Rex Block"
Feb 8th
Snowfall and heavy rain are hammering Europe and bringing deadly floods to the Balkans. Hundreds of families have been evacuated from their homes in Albania and one woman drowned after being swept away by floodwaters, the Associated Press reports. Snow continues to blanket parts of Italy and Spain, where hundreds of motorists were trapped on roadways. Two homeless people were killed after northern Spain was hit by a second wave of snow on Friday. "The pattern responsible for this is called a rex block, a classic blocking pattern in the mid-upper levels of the atmosphere," says weather.com senior meteorologist Jonathan Erdman. "High pressure aloft centered over Scotland has trapped a massive, lumbering area of low pressure aloft centered over Spain and the Mediterranean Sea." "With the west-to-east flow of weather systems temporarily thwarted, persistent heavy rain and snow is typically the case near the upper-level low in a rex block. In this case, Spain, Italy, and the Balkans have taken it on the chin."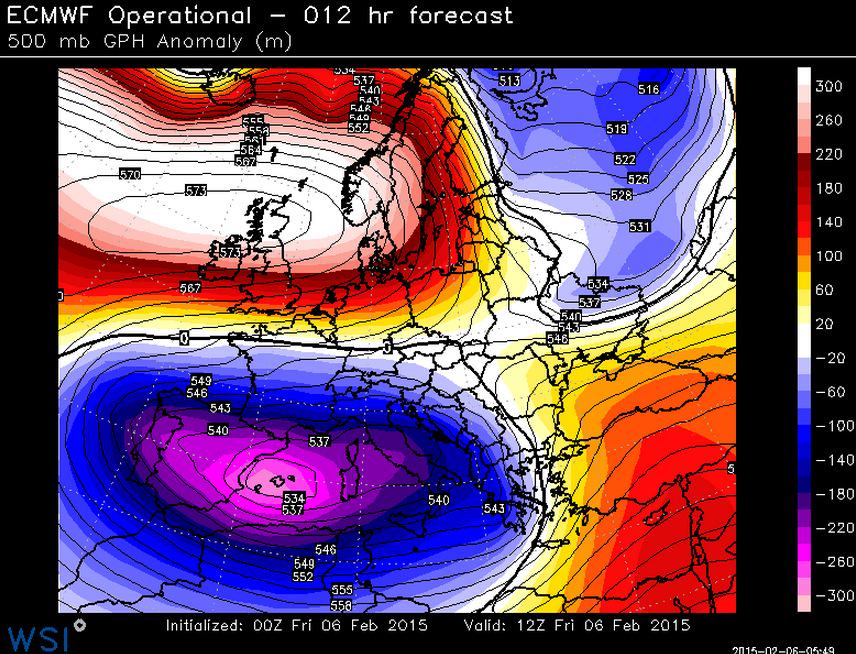 From: The Weather Channel
Amjasa to develop plans to connect 10,000 houses to mains sewerage
Feb 8th
Amjasa is taking the first steps to develop a plan to connect urbanisations throughout Xàbia municipality to mains sewerage. Many of the houses in the campo have septic tanks, constituting a source of pollution to the environment. It is acknowledged that Xàbia's varied landscape of hills and valleys make such a project difficult, but imaginative approaches, such as recycling domestic water for garden irrigation should be looked into. Note: Most of the water consumed by the urbs is for swimming pools and gardens. From Sunday Las Provincias print edition.
Montgó fire - transcripts reveal chaotic coordination
Feb 8th
Following the Montgó fire in September, there was a lot of finger-pointing between the central and regional governments as to who was to blame for the slow deployment of firefighting helicopters and planes. Although a report in October hinted that the Central Ministry was to blame, transcripts of conversations reveal that the bottleneck rested with the Valencia authorities — and bureaucratic protocols - for example, precious time was wasted because requests for air assets had to be made by e-mail. From : La Marina Plaza.
Would be San Antonio lighthouse developer sends a counter proposal

Photo: "El Semophoro"
Feb 8th
The Denia businessman, David Morera, who is behind the proposal to turn the San Antonio lighthouse into a private hotel, has sent a letter to Jávea stating that his development will have broad public uses including space to develop a visitor's centre about the Marine Reserve, a large, 190m2 lookout, 2000m2 of land for the planting of species native to the Montgó, camera placements for observing the marine reserve, two permanent offices in an auxiliary building, an 80m2 room for presentations and exhibitions and a restroom for visitors. The general public would have access at least 5 days a week. Xàbia town hall has resolved that the lighthouse should be a public building, and is not suitable to be turned into a private hotel. There are two buildings in the lighthouse grounds: The lighthouse itself - which is the subject of this proposal, and the Semophore, which Morera has rented from the owners (la Sociedad de Correos y Telégrafos) for 20 years. However Xàbia Town hall has noted that the development of either building would infringe five urban development regulations. From: La Marina Plaza
Oil exploration in the Gulf of Valencia - a stay of execution ?
Feb 1st
Cairn Energy - the company which, in the face of local opposition, was promoting a project to carry out soundings for oil deposits in the Gulf of Valencia has closed its offices in Madrid..without even leaving a forwarding address. See: Oil prospecting controversy for background. According to company sources the closure of this branch on December 31st is due to "reorganisation". The Ministry of the Environment has not yet published its report, but the "Dirección General de Sostenibilidad de la Costa y del Mar" - a part of the Ministry, recently concluded that: "the negative potential effect on the marine fauna present in the area is of sufficient magnitude to discourage development of the project. " From : El Pais Ed's note: According to on-line sources, Cairn Energy, which is big in the North Sea, is focusing its activities off the coast of West Africa, and it has been laying off workers.
Spain cuts university degrees to three years and extends master's courses to two
Feb 1st
Spain's government has approved a new law which will reduce the length of time it takes to study for a university degree to three years, instead of the usual four to six. Master's degrees will now take up to two years, compared to just one or sometimes even six months. Education minister José Ignacio Wert says reducing undergraduate degrees in line with much of the rest of Europe, including the UK, will cut costs for families by a total of €150 million a year. The four-year undergraduate degree and one-year master's system in Spain is 'very rare in Europe', Wert insists, only shared by Cyprus, Turkey, Armenia, Georgia, Greece, Kazakhistan, Russia and Ukraine. By changing the system in Spain, UK graduates and higher degree holders may find it easier to get their qualifications recognised, since until now a British degree was shorter than a Spanish one and was rarely given the full credit by the Spanish education authorities. In contrast, a master's in Spain has always been considered weaker in other northern European countries, because it involves much less study time and rarely includes a dissertation. For full story see: ThinkSpain.
Sun, sea, sand… what about the shopping?
Feb 1st
"Spain has a major image deficit as a shopping destination," said Angela Castano of Turespana, a body promoting Spain's brand, at this week's Fitur world tourism fair in Madrid. Shopping is an essential part of a holiday for a growing number of tourists, according to a report last year by the Madrid-based organisation (UNWTO). That trend is being driven by growing hordes of visitors from emerging markets such as China, Russia and, in Spain's case, from Latin America. Of these visitors, Chinese visitors spend as much as 900 euros each in Spain . But in Paris, the average Chinese tourist spends 1,500 euros on a visit. Spanish shops are now making an effort to catch up with the tourists, said Pedro Vargas, head of international projects for the Forum of Renowned Spanish Brands, a business lobby. Spain's best-known chain department store, the Corte Ingles, now mounts displays in English and reimburses sales tax to non-residents, he said. It has also broadened the range of fine foods for sale in its delicatessen, to compete with the likes of Selfridges food hall in London. For full story see: The local.es
Xàbia uses calendar sales to reforest two areas of La Plana
Feb 1st
Xàbia Town hall has used proceeds of a calendar sold through the Tourist department to plant indigenous trees in two areas affected by last summer's forest fire. The trees chosen are wild species found locally such as oak, juniper, wild olive, strawberry and carob trees. Pines are conspicuous by their absence. The idea behind the planting is to minimise the impact of the fire on the landscape and encourage the regeneration of a fire resistant woodland. The two areas planted are near the lookout on the Cabo de San Antonio, and a gully in the Camí de la Cova Tallada where terrace walls were also repaired. The work was done by the specialist Serveis Medioambientals de la Marina Alta with input from the town's forestry brigade (set up under the Social employment programme). From XAD: Xàbia reforesta...